Feel the heat from this slim-necked, lightweight mojo maker! Fire is life, and this instrument burns with creative intent! Comes with three single coil pickups with old-school alnico magnets, a five-position switch, master volume and tone, and a "magical blend knob" that allows for unique pickup combinations.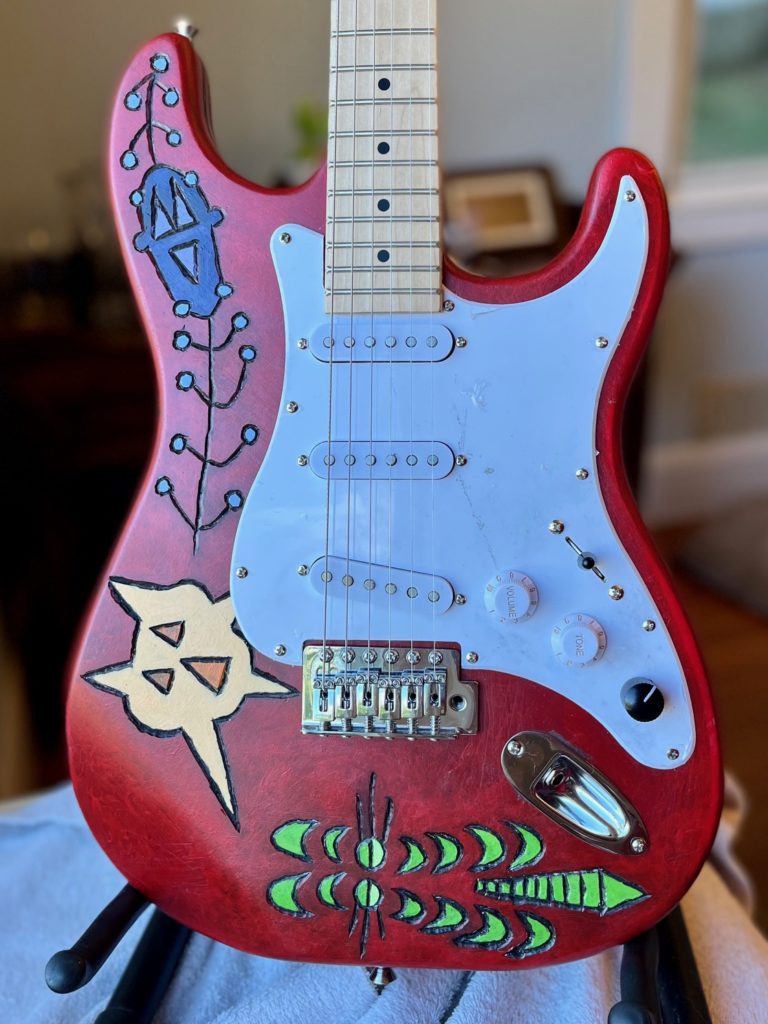 Features:
Body: Basswood
Neck: Maple
Fretboard: Maple
Electronics: SSS pickups with alnico-V magnets, five-position switch, volume/tone/magical blend knob that turns your single coils into humbuckers
Laser engraved headstock
Tour-quality gig bag
The Story of Fire, a Tribal Axe Custom Guitar
You cannot hold fire. It will burn you. But you can use it. Tame it. Make it yours. Cook your food. Drive away your enemies. Fire means life; feel the heat inside you!
What Do The Engravings Mean on Fire, a Tribal Axe Custom Guitar?
Fire is about passion. The Green Manalishi on the front of this guitar represents the divine blend of masculine and feminine fire spirits. Howling Spark is the spirit of fertility and carnal passion, while Purps Gee carries the cosmic strands of chromosomes that connect us all. Each dark hashtag represents a fiery twinge of desire. (There are 14 hashtags on the sides of Fire, matching the lunar phases of the Wakamuambo calendar.)
The back of Fire is a metaphoric collage depicting the fiery sting of pain. The gastronomic terror of the Bumbum Fruit, the piranha's bite, and the Amazonian catamount's claws. The sting of an angry honey-wasp nest and the mysterious pox brought about by Pale Errol and his enigmatic lilac seeds. The life of the Wakamuambo is filled with everyday dangers.